*you can listen and download music with this widget below*
(p.s. I have permission to host and share these files)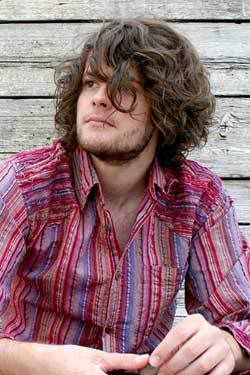 Meet Paul Steel.
Coming from
Brighton, England
, Paul Steel is a 20 year old multi instrumentalist who writes his own blend of neo-psychadelic pop and rock that has awarded him not only a major record deal, but accolades from the likes of Van Dyke Parks and Sean O'Hagan (of the High Llamas).
I first found Paul's music by accident in the
smiley smile forums
. As Paul and I are both Beach Boys fans Paul had posted a video of him performing the Brian Wilson classic Surfs Up on a British television show (which you can watch
here
). I posted my horrible cover as well to much embarrassment. Since then I've been in love with Paul Steel and have been able to follow him as his career has taken off.
Last May Paul released his debut album, April and I, a concept album about a boy and his imaginary friend as they struggle to grow up. In actuality, April and I is one long 27 minute song, a ridiculously ambitious and genius first release. Check out the video for Paul's Honkin'(On My Crackpipe).
Anyway, I was fortunate enough to talk to Paul through MSN and ask him a few questions about his first album, and his upcoming album, Moon Rock.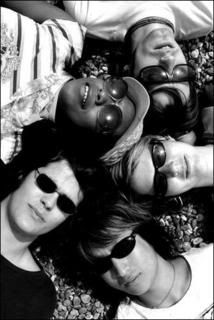 Eric: So the band name is Paul Steel. But it is an actual band, who are the members of the band, and what do they do?
Paul: It's Rachael Wood on lead guitar and backing vocals... she's a rock goddess from outer space. Makoto Kano on bass… our Japanese low frequency master. Andy Nixon on drums and backing vocals... the band "dad". And Alani Gibbon and Gemma Carre on backing vocals and percussion... the "Steelettes" maybe?!
Eric: Haha. When did you start playing music, and what made you want to become an artist?
Paul: After reluctantly learning piano pretty young I decided I wanted to be Jonny Greenwood and started learning guitar when I was about 14. I was in a few school bands and started getting into the Brighton live scene, then when I was about 17/18 I saw Brian Wilson do smile at RFH and it blew my mind. So after reassembling my head I decided I wanted to be an artist/producer.
Eric: Could you explain what RFH is for our American friends, and maybe a little about the show, I'm sure a lot of readers are terribly interested in that little detail.
Paul: Oh sure. It's the Royal Festival Hall in London where Brian Wilson premiered Smile which is his 37 year overdue masterpiece. I went to the show being a casual fan of the Beach Boys but hearing Smile as a complete piece after hearing all the bootlegs was a very religious experience and gave me a kick up the arse in terms of what kind of artist I wanted to be.
Eric: That's amazing. And you're currently signed to Polydor and Fascination Records, how did you manage that?
Paul: I was always interested in recording and production and I'd had a crack at demoing my own songs at home on my family computer. I gave them to everyone I thought would like it and it ended up in the hands of a few labels. So then I spent a while talking to different labels and recruited my band from the future to perform the songs live.
Eric: So now its no secret how much you admire Brian Wilson and his Smile album, how did it feel to get praise from the likes of the Wondermints and Van Dyke Parks?
Paul: I'm very honoured that they even listened to it. I'm a fan of both the Wondermints and Van Dyke Parks in their own right. Song Cycle by VDP is like a sort of Dickensian masterpiece and has been extremely overlooked and the Wondermints Bali album soundtracked a lot of my trips to college, so having them write back to me after hearing my stuff was very special.
Eric: You've also been able to play all over, and I've seen your video podcast from Japan (check it out, part 1, 2, 3), what's it like touring and what are some of your favorite places so far?
Paul: Touring is a very unique experience because you get to perform your music to people that you would otherwise never ever meet. It's definitely the most labourious part of my job but also the most unpredictable. I have very, very fond memories of playing in Japan. It was overwhelming going to a country that is so far removed from what I'm used to. And we managed to pull one of the best crowds we've ever had.
Eric: That's pretty outstanding, and I personally loved April and I, your first album, I think its insanely complex musically, and very emotionally moving for a first release, what inspired you to make that album?
Paul: I was a little bit bored of writing 3/4 minute pop songs at the time and wanted to do something radical and self-indulgent to keep me sane. I was listening to lots of symphonic music like Rhapsody in Blue and Song Cycle by Van Dyke Parks and was really interested in the idea of recurring melodic themes and stuff like that. I wanted to see how it would work in a sort of lo-fi bedroom pop format.
Eric: You also have posted the album to listen to in it's entirety on myspace (which can be heard here), so having done that, how do you feel about your music being shared over the internet and all these threats from the RIAA, etc?
Paul: I don't have a problem with it. I've discovered some of my favourite music on the internet. It's a very uncertain time for record companies at the moment and I think it's time for a new business model that can work around the inevitability of people downloading music illegally. As long as I can pay my bills and get that Curb Your Enthusiasm boxset I've got my eye on then I'll be happy.
Eric: I wanted to ask about one track in particular off of April and I, the title track April and I, I really love that one, the breakdown, and the woo woo woo section afterward, and the instrumental break, and it just seamlessly molds in to Worst day, every song just has so many parts, can you explain a little how you go about writing songs and arranging them?
Paul: I wrote April and i linearly (is that even a word?). I started with the intro which became the main theme of the piece and worked my way through each song to the end track. So the chord that one song would end on would dictate the first chord of the next one. I basically arrange in my head as I write them. Every melodic instrumental part is as important to me as the vocal melody is.
Eric: Haha, I suppose I'm not at that level yet musically, But now your new album just came out, Moon Rock, and it really is brilliant, how have things been since moon rock came out?
Paul: It's not actually out yet. It's been put back to early next year due to some complications. I'm very eager to see what people think of it. I think it's a marmite album. I think some people will like it and some people will pin it on their dartboard.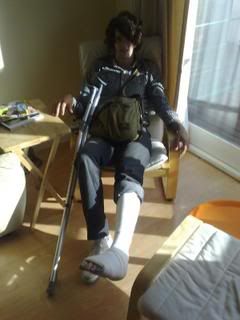 Eric: Ooh sorry about that! The SINGLE for Your Loss came out September 3rd, my mistake. But anyway I wanted to ask about your recent injury, how did that happen, and what has life been since then?
Paul: Me and the band were supporting Air Traffic at the Electric Ballroom in London. It was basically the start of our tour and in our last song Ray Gun we do an acid techno rave and jump around like hyperactive mentalists. I did a big jump and landed on the side of my foot and fractured my 5th metatarsal twice so we had to cancel the tour. I feel like a bit of an idiot to be honest. A crippled idiot.
Eric: That's a bit of a Wayne Rooney thing to have happen huh?
Paul: It is! That's the upside really. Only he's a national treasure who has been a victim to his own athletic bravery. I'm a local moron who did it cause I dance like a freak. I was hoping I'd bump into him at the fracture clinic. I'm sure he goes private though, haha.
Eric: Haha, I also wanted to ask about a couple more songs. In particular, Your Loss, it has a really intense driving organ in it, and an incredible breakdown around 1:45, can you explain a little bit about how that song was written and what it represents for you?
Paul: I wrote it when I was in one of my school bands. We used to play it about 5x faster cause we wanted to be Supergrass or something. Instead of the breakdown you hear now we used to have this ridiculously long psychedelic guitar solo like Dukes of Stratosphere used to do. Because I was getting into more electronic music at the time of rerecording it I decided to put a four on the floor 808 bass drum down and do a lush Steely Dan style vocal thingy.
Eric: …And my favorite song, The Way You Are, its just so deep and amazing, I feel like it really competes with some of the best ballads of all time. What were you thinking when you wrote that one, and could you explain a little bit more about it?
Paul: Ah! Thank you. Musically I was listening to lots of the great 20th century songwriters like Gershwin, Bacharach and more recently Rufus Wainwright so I think there's a lot of that in there. It's kind of about wanting to change the world but realizing that I have to change as an individual. The middle bit is a not so subtle reference to Rhapsody In Blue.
Eric: That's really awesome, I love Burt Bacharach and Rufus Wainwright. And I guess lastly, what do you have planned for the future? Will there be a new album soon?
Paul: Whilst my foot is out of action I'm mainly planning on playing computer football and eating biscuits. I'm also doing some music for Telstar, the movie about Joe Meek who is a legendary 60s producer… the British Phil Spector. I'm hopefully going to reschedule our tour. There's talk of maybe doing an EP to be released after the Moon Rock campaign. I'm also working on songs for the next album... I'm planning on doing something with a similar format to April & I. But still trying to piece it all together. Oh, and I Will Make You Disappear is the next single to be released over here in January.
Eric: Could you tell me a little about it (the songs you're writing)?
Paul: Well I'm playing with basic ideas at the moment but it's going to be another weird psychedelic adventure. I've been reading a lot about Illuminati and weird alien mind control theories and stuff so I'm hoping for it to be quite a retro-futuristic science fiction kind of thing with more synths and electronics. The audio equivalent of the Jetsons maybe, haha. I dunno.
Eric: Haha. That sounds amazing. Well I'm wicked psyched for it, and for Moon Rock. And thanks a ton for answering all that for me.
Paul: No worries man it was fun. Hope you got what you needed.
* * *
Paul Steel's new video for the single Your Loss is finished as well. Check it out!
Check out
www.paulsteelmusic.com
to download the track Crossed The Line.
Also go add
Paul's Myspace
!