Released last year, Nicholas Alan's sophomore album, "Busker", is easily one of the best folk pop albums of 2007. With brilliant song writing and conviction to boot, Nicholas Alan is one of the people to look out for in the pop music scene today.


The album opens up properly with the song Being 25, an ode to young adulthood and not quite being comfortable with yourself just yet. I was impressed with the song's slow build up as it added more instruments creating a very lush, full sound.

The album takes a turn for the somber with the next track, I'll Make You Wonder. Despite being the most ballad like song of the album, it is sung beautifully and Alan's dense instrumentation keeps the album flowing into my favorite track of the album.

I think the third song of the album, One That I Dream About, is one of the most beautiful songs I have ever heard. After an amazing string introduction the song kicks off with a series of dreamy chords that sets this song apart from anything I've heard in years. It really is a great song with some very inventive key changes that add a great deal of originality to the song.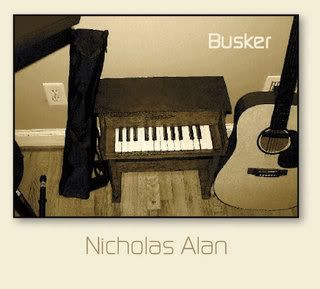 The album picks up from this point with the extremely jubilant A Tired Apartment. The singing in this particular song is some of the best on the whole album, especially the subtle backing vocals; they really add a lot of depth to the song. But this song truly shines after the first half of the song! As Alan sings "Don't stop, run like the wind" the music picks up and a great string pattern repeats and builds, creating an amazing and lush coda.

The next song on the album is an acoustic cover of the Flaming Lips classic, Ego Tripping At the Gates of Hell. I am a very big fan of the Flaming Lips (especially their album Yoshimi Battles The Pink Robots), so I was extremely relieved when I did hear Alan's stripped down cover. He made his own arrangement of this song, and sings it perfectly. I give him kudos for making an excellent choice for a cover.

The sixth song on Busker is the Macabre Lies of Liars. Despite the grim tone of the song, this is one of my favorite arrangements on the album. I love the sections of the song at 1:30 and 2:30. This is another great song with a perfect instrumentation.

The album finishes off with the deeply personal Cigarettes In Snowmen. It's a terribly gorgeous song with another great build up, but the real clincher of this song is the lyrics that Alan wrote for this song. It truly reminds me of the days when singer/songwriters dominated the radio and every kid with an acoustic guitar had a hero in Simon and Garfunkel or the Beatles. It's a real good trip, man, and the hidden track at the end of the album is equally beautiful and reminds me a bit of John Mayer. I just felt awesome after hearing this CD.

Busker is a beautiful album with some of the best arrangements I've ever heard. And Although Nicholas Alan's style has been compared to artists like Jack Johnson, I can't entirely agree; I've heard Jack Johnson and I've heard Nicholas Alan and I truly believe that the latter is much, much more endearing. It's true: Nicholas Alan is the next great hope for independent folk-pop music.

Go give Nicholas Alan and Busker a listen! You can buy his album at his website and his myspace.


Website | Myspace | Label