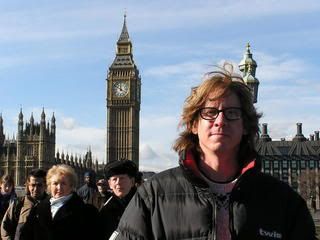 There comes a point in every long standing band's career where its members feel the need to break out and start a solo career. All the members of KISS did it, Led Zeppelin did it (except for their ill fated drummer, John Bonham, of course) and The Beach Boys did it too.


Most notably is Beach Boy Brian Wilson's solo career. Since 1988 Brian Wilson has been releasing a string of solo albums to great reviews. However, Brian Wilson scarcely played live until assembling his own live band to accurately play his complex instrumental and vocal harmony sections featured on his studio albums. For almost a decade Brian and his band has been touring the world performing Brian's works including Pet Sounds, Smile and his latest work That Lucky Old Sun.

All of the members of Brian Wilson's live band are incredible musicians, each with their own background and musical history. You may recognize Nelson Bragg as one of the percussionists of the band, frequently performing behind Wilson and surrounded by an arsenal of drums, cymbals, tambourines and various other instruments. But besides Bragg's gig with Brian Wilson he is also a member of several other bands in the pop scene including The Wondermints, The Now People, The Quarter After and Cloud Eleven.


Despite Bragg's extremely busy schedule he still managed to go the route of so many band members before him and release his first solo album, Day Into Night, at the tender age of 44. As with any album from an accomplished musician and multi instrumentalist, Day Into Night shines with great song writing, fantastic harmonies and a maturity that often takes artists decades to develop.

Initially, the album sounds very similar to artists like Barenaked Ladies and other pop folk fusion groups, but after several listens the album begins to show Nelson's more obvious influences, namely the Beach Boys and the Beatles. In fact, there is a cover of George Harrison's "Dark Sweet Lady" on the album that remains very true to the original (although I've always HATED the steel guitar).

All of the songs on the album work around an acoustic guitar and catchy vocals by Nelson Bragg and while it is obvious that a lot of thought and effort was put into the album, both in writing and recording, the album's major flaw is just how similar the songs really are. The songs on the album run the gamut from slow, aching ballads to mid tempo light pop songs that just seem to melt into each other without any indication that a new song has begun or end.


Perhaps the most exciting song on the album, Tell Someone, despite having a great key change in the middle of the song, still seems to drag on and then finally returns to more balladeering. The album ends with the down tempo song Turn The Darkness Into Gold, a great song reminiscent of 70s style acoustic pop but the track left me feeling disappointed by the overall gloomy feel of the track and ultimately, the whole album.

Day Into Night is a great first release from Nelson Bragg and clearly shows off his talent as a song writer and solo artist, but the songs on the album just don't have enough diversity to make listening a very enjoyable experience. I suspect that Nelson Bragg's masterpiece is not quite here yet, but his first album proves that he has the potential, and hopefully will, blow the pop world away.


Click here to listen to Day Into Night or learn how to buy it.
Myspace | Label