Hey everyone!
I haven't had anytime to upload this blog recently and for that I am sorry. I have moved from Western Massachusetts to Providence, Rhode Island. I went to college here and its really great to be back in time for Thanksgiving to be around my friends. I have my own place and I've got to get a job soon as well!
So despite all this I've decided to spend more time updating this blog. I'm also happy to announce I am dropping my third server, Mediafire, in place of the new www.Divshare.com. You'll notice it's much better, and you can now listen to songs even before downloading them! I'm also hoping my files won't disappear!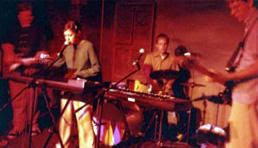 Anyway, I'm writing this time about a band I've gotten into called Brittle Stars. Coming from Gainesville, FL, Brittle Stars' name alone sheds light onto their sound and the musicians behind it; something terribly beautiful but incredibly delicate. The songs Brittle Stars make are often filled with feelings of hurt, disappointment and bitter sweet romance, yet never come off as being too wrapped up in its own sentimentality.
In 1999 the band released their self titled album on Shelflife records. The music is purely indie pop, with jangling guitars, synth riffs that never feel out of place and beautiful singing by keyboardist Estelle. The band has since broken up and singer Estelle has hence moved to Israel then to New York City where she is one half of the band Elephant Parade.
There is also a rumor floating around that Brittle Stars could be getting together for a reunion in May of 2008!
p.s. I found this photo of Estelle in New York! Isn't it nice? See ya soon.