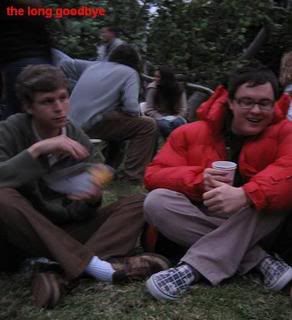 One of my favorite new actors to pop up on my TV and in theaters is an incredibly funny Canadian by the name of Michael Cera. He co-starred in the movies Superbad and Juno and I really loved both of them. For those of you that did see Juno, maybe you remember Michael Cera and Ellen Page's acoustic duet of the Moldy Peaches song Anyone Else But You? If you don't check it out
here
.
As it turns out, Michael Cera has his own band. Los Angeles' The Long Goodbye consists of Michael Cera and his friend Clark Duke on guitar with Christian Buenaventura on drums.
Well because I'm writing about them in the first place, I love them to death. They describe their songs as "silly, confessional, and off-the-cuff rag-tag ditties, based on simple structures and adolescent-in-love lyrics." And that's pretty close to the truth! Everyone of the songs on their myspace is beautiful in it's own respect and a band like this really deserves to have label support and several tours a year. But I suppose with the way Michael Cera's career is exploding, it would be a miracle to hear any more music from this trio at all.
My favorite song on their myspace is "Pilgrims". The acoustic guitars are based around this one simple, but great riff that just works. And the lyrics tell of a complex love triangle between the narrator and two girls: Margaret and Shelly. It's almost folk style story telling with Michael Cera singing in either a giant hall, or with lots of reverb, but it sounds great.
The band has received attention from both Spin magazine and Limewire's music blog, both crediting the band for their DIY ethic but Limewire makes a point that their lo-fi sound detracts from their music. Well as a huge fan of the lo-fi sound I completely disagree. The music The Long Goodbye offers is honest, raw and very moving.
I guess what I'm trying to say is, give them a listen. You'll be in for a smile.
http://www.myspace.com/thelonggoodbyeband